| | |
| --- | --- |
| | INSCO has developed the Ultimate Calibration Machine. Our 780 Model, also known as the "3 in 1" enables calibration labs to perform test at 3 different set points simultaneously with a single dry block. |
Features
Triple high accuracy wells; low, medium and high temperature ( -90° C to 400° C ), No liquid required.
Dual compressors for very low temperature control.
As many as three independently controlled metrology wells in each cabinet
Cooling from ambient to -90° C in less than 40 minutes.
Lowest temperature in dry well blocks in the market (-90° C ) which are three time faster than liquid bath and better stability in the low range.
Three independent wells with ranges Low range -90° C to –30° C Medium range -40° C to 60° C High range 40° C to –400° C
Temperature metrology wells permit calibration of RTDs, thermocouples and any othertemperature sensors at three different controlled temperature.
Ideally suited for metrology laboratories and instrumentation departments. Reduce the cost instruments and sensors calibration and increase your productivity.
Most productive unit in the market (calibration of various instruments simultaneously).
All stainless steel cabinet construction, rugged compressors assembly, easy maintenance design.

         

 

 

 

 

 

 

 

 

 

 

                            

 

             

 

 

 

 

 

 

 

 

 

         
Model 780 Specifications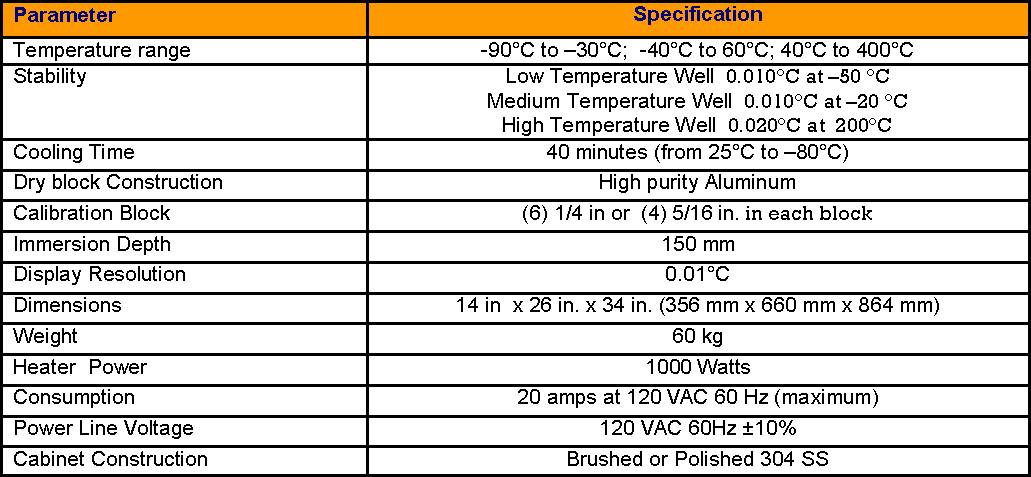 Model 780 Graphics